The UNESCO-listed Amalfi Coast sits along the southern edge of the Sorrentine Peninsula in Italy, offering visitors a captivating blend of ancient history, spectacular coastal scenery, and vibrant culture. Once a powerful maritime republic wielding influence across the Mediterranean, today the region's ancient streets wind through picturesque towns like Positano, Ravello, and Amalfi itself – attracting eager visitors from around the world.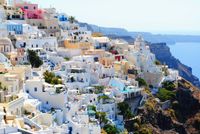 Colorful houses peer out from the cliffsides to the azure blue Tyrrhenian Sea beyond, and olive groves, vineyards, and lemon orchards dot the rugged landscape. Amalfi's rich cultural heritage can be clearly seen in its striking architecture – with elegant cathedrals, bustling piazzas, and historic villas to explore – and world-class cuisine. These factors combine to make the Amalfi Coast a gem of a destination on the Mediterranean. 
Within our latest blog, we'd like to share a few of the challenges associated with visiting the Amalfi Coast, and key reasons why our tours allow visitors to make the very most of their time in this breathtakingly beautiful corner of Italy.
The Challenges of Independent Travel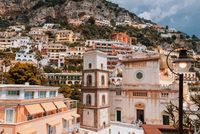 Traveling around the Amalfi Coast independently brings with it a unique set of challenges. Mastering the local public transport network or navigating the winding roads by rental car can be tricky, and the local buses and ferries may not always stick to the schedules. Organizing your trip independently can take up valuable vacation time, too. The Amalfi Coast offers a wealth of stunning sights and activities, so prioritizing what you want to see and do can be difficult. And without a guide to share local knowledge and favorite vantage points, you risk missing out on the region's hidden secrets.
Explore the Amalfi Coast on a Private Guide Tour with Askos Tours
Askos Tours specialize in guided tours across Italy, and the Amalfi Coast is one of our most popular and appealing destinations. Our private full-day Amalfi Coast tours include pickup and drop-off at your Amalfi accommodation (or closest travel hub near Naples, Salerno, Sorrento or the Amalfi Coast.) You'll also enjoy the services of your expert local guide, whose unrivalled historical knowledge brings the sites and scenery to life.
Within our carefully planned itineraries, we try to fit in free time, too, for relaxing with a drink, soaking up the sunshine, or cooling off with a swim in the clear coastal waters.
Hear the Hidden Secrets of Positano, Amalfi, and Ravello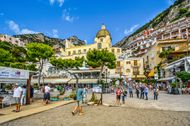 Nestled along the rugged cliffs of the Amalfi Coast, Positano enchants visitors with its picturesque beauty and Li Galli archipelago scenery. A notable highlight is La Madonnina, a pretty little church perched high above the gentle waves. From here, the panoramic coastal and Tyrrhenian Sea views are nothing short of breathtaking.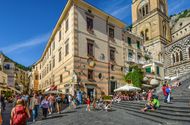 Amalfi is a town of rich maritime heritage and timeless charm, and also features on our guided Amalfi Coast tours. The centerpiece is Saint Andrea Cathedral, a masterpiece of Arab-Norman architecture. Its grand façade and ornate interior stand in homage to centuries of cultural exchange in this ancient coastal enclave. The historic alleys beckon, with their narrow passageways and colorful façades providing a glimpse into the town's storied past. Meanwhile, visitors and locals alike soak up the sunshine in historic Flavio Gioia Square.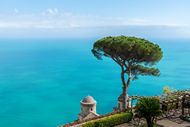 Lastly, no visit to the Amalfi Coast is complete without spending time among the manicured gardens and pretty villas of Ravello. The Duomo di Ravello, or the Basilica di Santa Maria Assunta e San Pantaleone, is the town's striking Romanesque cathedral, and the main place of Catholic worship in Ravello. Equally notable are the villas Rufolo and Cimbrone – each with spectacular gardens and sweeping coastal views.
If you're planning a trip to the Amalfi Coast, browse our Amalfi tours and experiences page for information on the itineraries available. If you have anything more specific in mind, please contact us and share details on our Custom Tours page – we'd be delighted to put together a bespoke itinerary for you to hit the Amalfi highlights of most interest.